Benzaie's Top 5

Created by

Produced by

Starring

Produced

23

Running Time

Varies

Website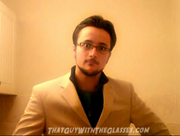 Benzaie's Top 5
is the show where
Benzaie
covers the top five best or worst things in either games or movies. Benzaie usually talks to an audience of canned laughter as he counts down the five from his list.
Top 5 Worst Genesis Movie Games (October 05, 2008)
Worst Things About Arthur and the Invisibles (October 14, 2008)
WTF Moments in LotR Animated (December 05, 2008)
Stupidest Scenes in North Star (July 23rd, 2009)
Worst Parts of Street Fighter: the Legend of Chun-li (October 4th, 2009)
Movies of the decade! (December 20th, 2009)
Games of the decade ! (December 27th, 2009)
Movies from the '90s (March 7th, 2010)
80s Movies (April 4th, 2010)
Top 5 movies from the 80's Finale (April 11th, 2010)
Top 5 Manga you should read! (June 27, 2010)
TOP 5 Manga Finale (July 5th, 2010)
Top 5 BS from 28days later (September 12th, 2010)
Best Things from 28 Weeks Later (October 10th, 2010)
Top 5 Best Games of the Year (December 14th, 2010)
Top 5 Movies of the Year (December 26th, 2010)
Top 5 Movies of the Year Finale (December 28th, 2010)
Top 5 Why Zelda Twilight Princess SUCKS (June 25th, 2011)
Top 5 Murder Attempts in JEM (July 16th, 2011)
JEM and the Holograms Bloopers (July 24th, 2011)
Top 5 Why Resident Evil 4 Sucks (October 2nd, 2011)
Top 5 Best & Worst from Tron Legacy (November 27th, 2011)
Top 5 Best Movies of 2011 (December 30th, 2011)
Games of the Year (January 2nd, 2012)
External Links
Edit
Benzaie's Top 5 at ThatGuyWithTheGlasses.com
Ad blocker interference detected!
Wikia is a free-to-use site that makes money from advertising. We have a modified experience for viewers using ad blockers

Wikia is not accessible if you've made further modifications. Remove the custom ad blocker rule(s) and the page will load as expected.