Before TGWTG.com
Douglas "Darien" Walker aka ThatGuyWithTheGlasses first made his appearance on the website YouTube. It was here that he began his 5 Second Movies and the beginnings of The Nostalgia Critic. His stay on YouTube garnered many fans, but also complaints from major studios like 20th Century Fox and Lions Gate over copyright infringement. Despite Walker explaining quite clearly in his videos that his videos are satirical, thus protected by the United States First Amendment, the videos and channels were taken off anyway. He then attempted at giving each video a different channel so that if one video was deleted, his others would still be left intact.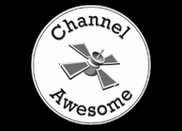 According to Rob Walker aka The Other Guy (aka Doug's brother) on the TGWTG forums:
"Eventually, Mike Michaud and (Walker's college friends) Bhargav Dronamraju and Mike Ellis said they were looking for a product to support as the first step in their glorious plans to create Channel Awesome. Mike offered to build the site. We would use the moniker Doug had on YouTube (TGWTG). At that point, most of Doug's work on Youtube was being done to get a fanbase going. The idea was, when we have enough fans, we'd launch the site. At that time, though, Mike's scheme was only one of like four things Doug had on his plate. So it started off slow. And Mike wanted to make sure the site was perfect before launch."
The Aftermath
In June of 2008, every single one of Doug's videos were found and deleted from YouTube, much to the pleasure of Walker, who later announced he was planning on deleting the channels himself so that more people would see his videos on his official website. Since then, the site has garnered thousands of fans who visit daily, and also continues to grow as new, talented contributors are added.
Goodbye, Suede!
In early January of 2009, the staff learned that That Dude In the Suede was leaving the site for a missionary job for two years. On Janaury 19, 2008, the staff composed a special farewell to their friend who had made many animé-related reviews. Later that week, Suede himself uploaded a special farewell to his fans and the site itself.
Crossovers!
To show unity on the site, many of the programs began to cross over with one other. In 2008, Benzaie and Suede would comment on each other's videos. That was only the beginning as Linkara crossed over with many of the other site contributors such as Marzgurl and The Spoony One. Eventually, The Nostalgia Critic and TheDudette crossed over as well on February 3, 2009, to review "Ferngully: The Last Rain Forest." For a more comprehensive look at the crossovers, go here: Cameos.
TGWTG Live and Transmission Awesome Live
On February 12th, 2009. the site had a live donation drive with many shows and events occurring. See the report here. Drive Report
Just like the TGWTG drive, the TA Live podcast has not yet aired. It aired on February 18th on Ustream.tv The Transmission Awesome boys promised prizes and a slew of guest stars. For updates on both of these events and more, see Events.
TGWTG Year One
On April 29th, 2009, the site launched a trailer for an event happening in early May. This coincided with the birthday celebration the site had the previous week. Details of the event were sketchy. For more information, see :Year One.
Transmission Awesome Live 2
On May 16th, 2009, another live edition of Transmission Awesome aired. For a full report, see TA2Live.
Ronald McDonald House charity
On December 5th, 2009 the TGWTG team announced another live donation drive for December 5th, 2009. The event will be recorded on the wiki. Full report here: Drive Report 2.
External Links
That Dude in the Suede's farewell.
More Info
A timeline of major events in the site's history: Timeline
Ad blocker interference detected!
Wikia is a free-to-use site that makes money from advertising. We have a modified experience for viewers using ad blockers

Wikia is not accessible if you've made further modifications. Remove the custom ad blocker rule(s) and the page will load as expected.