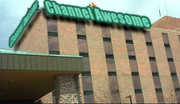 Channel Awesome is the company that sponsors ThatGuyWithTheGlasses.com, Blistered Thumbs, Inked Reality, Barfiesta and other Internet personalities associated with the organization.
History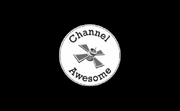 Based in Lombard, IL, the company was founded by Mike Michaud, Mike Ellis and Bhargav Dronamraju. The company was founded in April of 2008 when Michaud had been looking to make a new media company after he and a few friends were let go from Circuit City. He saw the potential in then YouTube personality, Doug Walker. With Doug's help, the site launched with episodes of The Nostalgia Critic and 5 Second Movies being the first major draw. Thus the first channel of the company, ThatGuyWithTheGlasses.com was born. What was once one site, has now grown with many main contributors! See Chronology for a list of everyone involved with the company.
Once the first site launched, the hits rolled in and shows like The Nostalgia Critic started to average 100,000 to 200,000 viewers per week. TGWTG.com also gained 14 million page views per month. Thanks to Blip.tv's deal with YouTube in July 2009, the hits may increase in the future. The site gained about $10,000 per month thanks to ad revenue. With donations, the site gained on the upwards of 11,000 dollars.
In the future, the site plans on expanding to create many channels with TGWTG at its core. These channels include a site dedicated to nightlife and bars called Barfiesta, a video game site called Blistered Thumbs, a comic book/animé site titled Inked Reality, and others coming soon such as the Store.
The organization is also responsible for many of the events since the site was created. These events are:
Channels
External Links
Articles
Ad blocker interference detected!
Wikia is a free-to-use site that makes money from advertising. We have a modified experience for viewers using ad blockers

Wikia is not accessible if you've made further modifications. Remove the custom ad blocker rule(s) and the page will load as expected.