Emo Jones

Created by

Produced by

Starring

Produced

1

Running Time

Variable

Website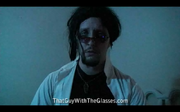 Emo Jones is a show created by ThatGuyWithTheGlasses and The Other Guy. In the show, Doug portrays a man in a dark, dark room. The man then lists what it's like to be emo and explains how he feels while shortly after each sentiment, a voice keeps hissing, "Emo!" or "Emo Jones!". For example, he says in the first episode he likes "Twilight" even though he had never actually read the book or had seen the movie. This new persona of Doug's is also on a trial basis as of the first episode. Given the time that has elapsed since its original airing, it is highly unlikely that there will ever be another episode of Emo Jones.
The failure of Emo Jones is referenced in Doug's James and the Giant Peach review, during which Doug is apologizing for his more recent failure with Let's Play Bart's Nightmare.
Episodes
Episode 1 (August 17th, 2009)
Links
Ad blocker interference detected!
Wikia is a free-to-use site that makes money from advertising. We have a modified experience for viewers using ad blockers

Wikia is not accessible if you've made further modifications. Remove the custom ad blocker rule(s) and the page will load as expected.