Lyrical Poetry

Created by

Produced by

Starring

Produced

6

Running Time

Variable

Website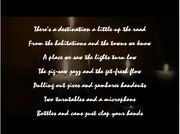 Lyrical Poetry is a new series by PawDugan in which he reads to us the lyrics of a song, this is similar in fashion to that of William Shatner singing Rocket Man. By doing so in this format, Paw gives the audience insight into the lyrics of music, and challenges the viewer to see things they may not have originally been seen.
Episodes
I am the Walrus (April 17th, 2009)
Raining Blood (March 29th, 2009)
Down with the Sickness (March 5th, 2009)
Where It's At (March 7th 2009)
Shock the Monkey (April 7th, 2010)
Ass (January 27th, 2012)
External Links
Lyrical Poetry on Channel Awesome
Ad blocker interference detected!
Wikia is a free-to-use site that makes money from advertising. We have a modified experience for viewers using ad blockers

Wikia is not accessible if you've made further modifications. Remove the custom ad blocker rule(s) and the page will load as expected.