Still Gaming

Created by

Produced by

Starring

Produced

48

Running Time

Variable

Website

Still Gaming is a show by Lee Davidge where our host reviews games from Nintendo, Playstation and other systems. Unlike other reviewers, Lee tends to review the games by showing himself in a series of pictures taken from a digital camera instead of filming like other reviewers on ThatGuyWithTheGlasses.com.
Theme Song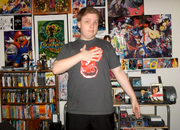 Lyrics
Lee likes playing videogames, and when you really think about it that's not really so strange.
But you would wonder if it's why the man was put on this earth.

It's time to re-evaluate how much a picture is worth.
You can be informed and entertained. No need to explain, watch the review of a game Lee is Still Gaming!

And I'm pretty sure that is something that won't ever change. Lee is Still Gaming! And he won't for as long as he lives as long as there are games!
Episodes
Fallout 3 (January 2nd, 2009)
Sonic Unleashed X-Box 360 (February 17th, 2009)
River City Ransom (February 21st, 2009)
Mega Man 9 (February 22nd, 2009)
Vectorman (February 28th, 2009)
Chip and Dale: Rescue Rangers (March 7th, 2009)
Peggle Deluxe (March 26th, 2009)
Bikini Samurai Squad (March 28th, 2009)
Tales of Vesperia (March 30th, 2009)
Legends of Wrestlemania (April 5th, 2009)
Arcana Heart (April 18, 2009)
Soul Calibur IV (April 26, 2009)
Review Graveyard (April 29th, 2009): Lee celebrates 5000 subscribers and looks at unfinished reviews.
Top 10 Animé Openings and Endings (June 3rd, 2009)
Mega Man Legends (June 7th, 2009)
Punch Out Wii (July 8th, 2009)
Prototype (July 16th, 2009)
BlazBlue (August 8th, 2009)
Dead Moon (September 27th, 2009)
Still Gaming?? Adventure (Atari) (January 4th, 2010)
Still Gaming Europe?? Games with Cats! (February 16th, 2010)
Blades of Steel (With Captain S) (March 1st, 2010)
Splatterhouse 3 (March 16th, 2010)
Food Fight (March 29th, 2010)
Hydro Thunder (June 15th, 2010)
Harley Davidson Racing (June 25th, 2010)
Ninja Golf (August 17th, 2010)
Mercury Meltdown Remix (September 3rd, 2010)
Christmas NiGHTS (April 22nd, 2011)
Corvette Evolution GT (May 31st, 2011)
Full List
Arcana Heart
Dragonball Z Budokai 3
Tecmo Super Bowl
Corvette Evolution
Bio Miracle Bokutte Upa aka Mario baby
Sky Diver
Harley Davidson Racing
Christmas NiGHTS
Soul Calibur 4
Dead Moon
PAC-MAN Championship Edition
Specials
Behind the Scenes of Little Miss Gamer: Psychonauts Pt 1 (October 17th, 2009)
Behind the Scenes of Little Miss Gamer: Psychonauts Pt 2 (October 22nd, 2009)
Mega Man Legend Commentary (January 21st, 2011)
SoulCalibur IV Commentary (June 2nd, 2012)
Tales of Vesperia Commentary (July 30th, 2012)
Links