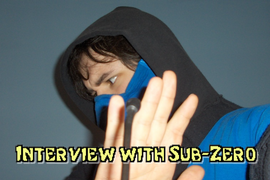 Sub-Zero is a character featured in the Mortal Kombat franchise. He is a martial artist who possesses the magical ability to freeze objects solid. He appeared in Phelous' Mortal Komedy series, where he ended up scolding Phelous for throwing in the infamous "Fatality" text and sound effect at the end of a scene.
Ad blocker interference detected!
Wikia is a free-to-use site that makes money from advertising. We have a modified experience for viewers using ad blockers

Wikia is not accessible if you've made further modifications. Remove the custom ad blocker rule(s) and the page will load as expected.